Design Trends and Inspiration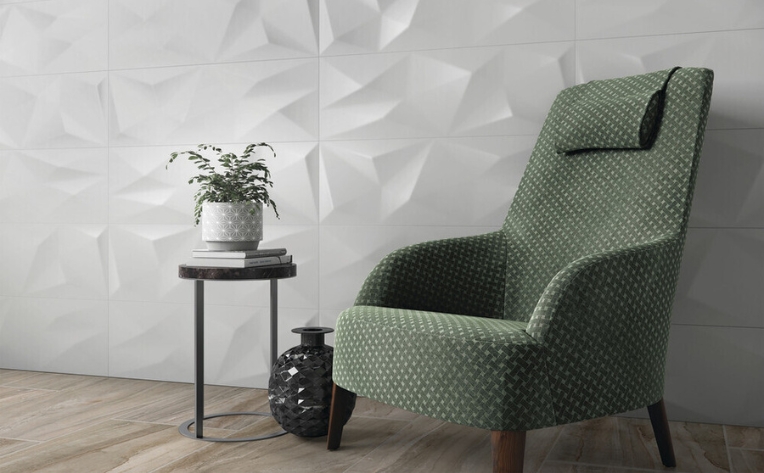 Dec 08, 2021
It's time to bundle up and brave the cold as we head into the winter season! As we enter the new year, it's time to re-evaluate our homes and discover what is serving us and what is no longer working. This year, we expect to see a variety of new home interior trends and design styles ranging from vintage grandmillenial living room scapes to natural whites and rustic textures in the bedrooms. We've got a jam-packed issue full of the top trends in flooring, tips on how to design with self-care in mind and exclusive designer content. So get cozy by the fire and settle in for some inspirational reading with the latest issue of Design at Home magazine.
7 Tips to Incorporate Self Care into Your Home
Making time for self-care is often a resolution we make each New Year and what better way to begin your transformation than with your home? Your home environment deeply influences your mood and productivity. In this article, we explore seven ways to make your home a safe haven discussing how to separate your work space from the rest of your home and how to create a welcoming entryway.
Up-and-Coming Trends Room by Room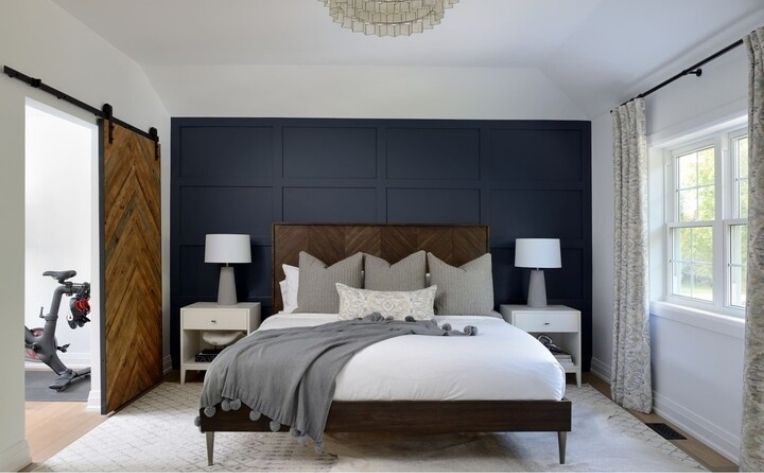 Design by MICHELLE BERWICK Photography by LARRY ARNAL
The start of a new year elicits feelings of anticipation for what is to come. With any luck, a few home tweaks are usually involved. This season, we're focusing on room-by-room ideas to help you make the most of each space in your house. You'll adore these gorgeously designed areas, whether it's a warm bedroom or a room designed exclusively for movie nights.
Third Floor Remodel Q&A with Rebecca Hay
Written by Rebecca Hay, Design by Rebecca Hay Designs, Photography by Mike Chajecki
In this exclusive designer interview, Rebecca Hay discusses how she approached this third floor renovation and turned it into the perfect master suite. Hay details her love of using blue in interior design, how to create texture and how to create a space that's designed for the needs of two people.
Styles We Love: Winter Edition
This winter, three styles are making leaving their print on the interior design world: Checks and Plaids, Contemporary Curves, and Grandmillenial. Inspired by the runways of New York Fashion Week, Checks and Plaids showcases the upscale big plaid prints combined with checkered patterns to create a lively patterned interior that's right on trend. For a more subtle interior design style, explore Contemporary Curves and revel in the pleasure of effortless curves and sleek finishes to gain a sophisticated look. Or, go bold and take your interiors to the next level with Grandmillenial, a modern take on traditional décor, furniture and lighting that is certain to elevate your interiors with its delicate florals and earthy details.
Introducing 2022 Style Watch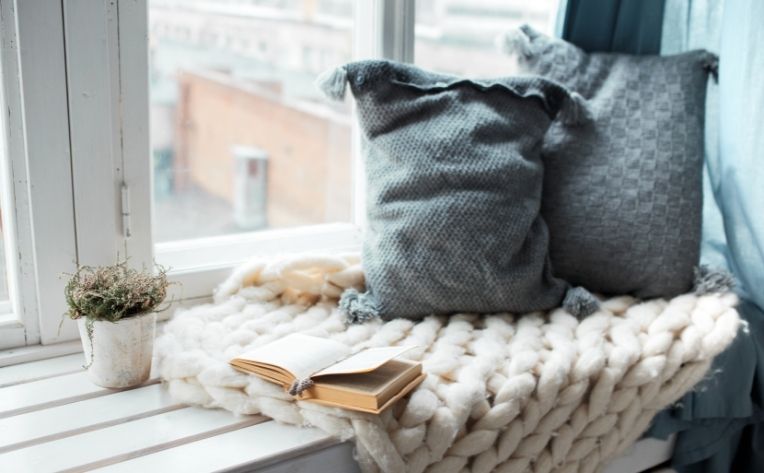 Discover the top ten trending floors for 2022 from cozy stylish carpets underfoot to beautiful floorboard variation to the latest engineered hardwood in waterproof flooring technology. What better way to kick off the New Year than with brand new floors for your home? This year, we explore ten different styles that have dominated in the flooring world and these trendy products are sure to catch your eye.
Behind the Design: A Rustic Mountain Retreat
Written by Big Sky Home Interiors, Design by Big Sky Home Interiors, Photography by Justine Jane Photography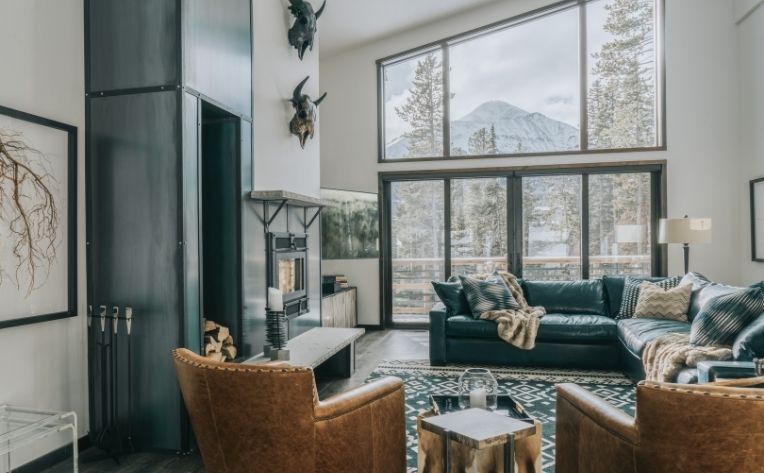 Design by BIG SKY HOME INTERIORS Photography by JUSTINE JANE PHOTOGRAPHY
This stunningly picturesque mountain escape has all the essentials for a large family. In this design feature, interior designer Jodee March delves into creating a functional home retreat a family of ten that was designed as a getaway from their city house. Big Sky Home Interiors gathered inspiration from the Montana mountains to create a home full of color, texture and personalized rustic charm.
Finding Inspiration from Regional Landscapes
Written by Louis Duncan-He, Design by Louis Duncan-He Designs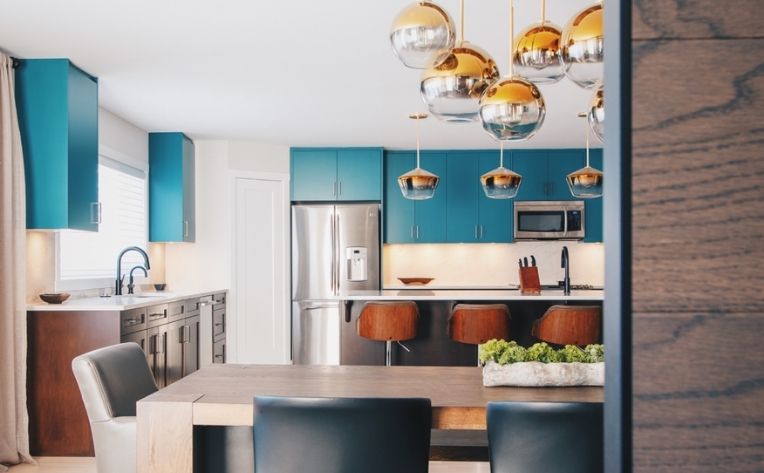 Design by LOUIS DUNCAN-HE
Have you ever been curious to know how your natural surroundings shape your interior design? Well, in this exclusive feature, Louis Duncan-He extracts the ways in which his design inspiration comes from regional landscapes, exploring everything from the ocean blue hues of the west-coast to the posh, modern spaces of metropolitan areas.
Bridging Natural Light and Warm Textures
Learn how you can bridge natural light with warm textures in your bedrooms in this carpet flooring feature. This theme for winter combines the natural beauty of sunshine with the warmth of carpet to produce one harmonized style that will transform your bedroom from dreary to brilliant. Explore ways to achieve this look through natural light and neutral carpet with recommendations from our Flooring America carpet catalog.
Designing with White
Written by Diana Rose Balanyuk, Design by Diana Rose Design, Photography by Mike Chajecki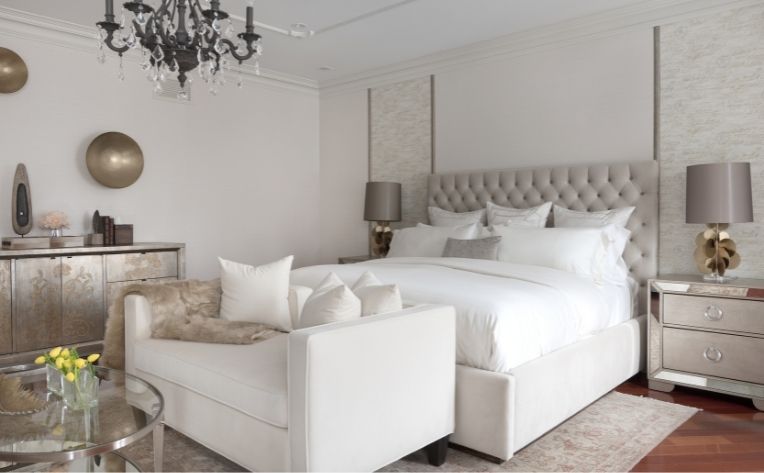 Design by DIANA ROSE Photography by MIKE CHAJECKI
Fall back in love with white with this article by designer Diana Rose, who discusses how she uses white color palettes as the dominant part of her interior design. Learn everything you need to know about combining white with color and adding interest without color through shading, tones, textures and materials in Rose's feature on designing a living space with white.
Continue Reading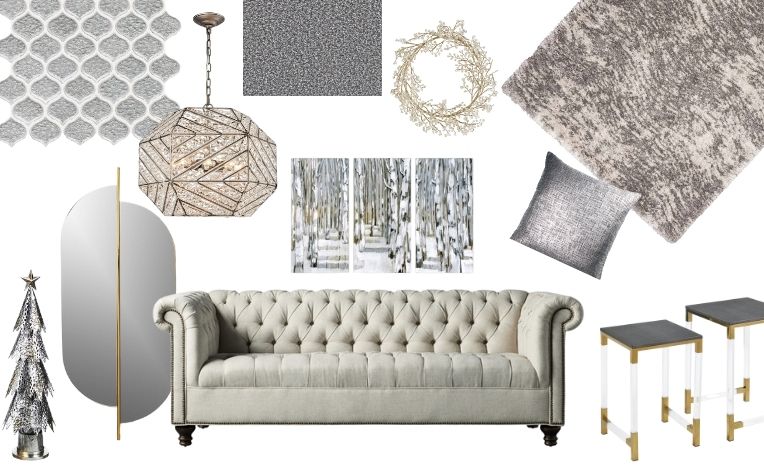 Dec 06, 2021
Berwick Sofa by Arhaus, Fiato Mirror by CBD, Consulate Nested Tables by Scout & Nimble, Dreamy Shag Rug in Charcoal Gray by Nourison, Polar Arabesque Tile by Soci, Constructs 8 Light Chandelier in weathered zink by ELK, Suzanne Kasler Jeweled Wreath by Ballard Designs, Durga Pillow by Renwil, Winter Walk Triptych by Lauren Herrera from Pottery Barn, Metal LED Christmas Tree by Plow & Hearth, Let's Go in Larimer by Resista Soft Style
As we round the corner into December, now's the time to start prepping your home for the holidays. Get your house ready with sparkling glass and metal materials through end tables and accent furniture. These accessories shine with a simple yet sophisticated neutral color palette that will bring all the coming festivities to life. Don't miss the perfect touch of holiday décor to spruce up an already stunning mixture of lighting, furniture, and artwork.
Consider Cozy Flooring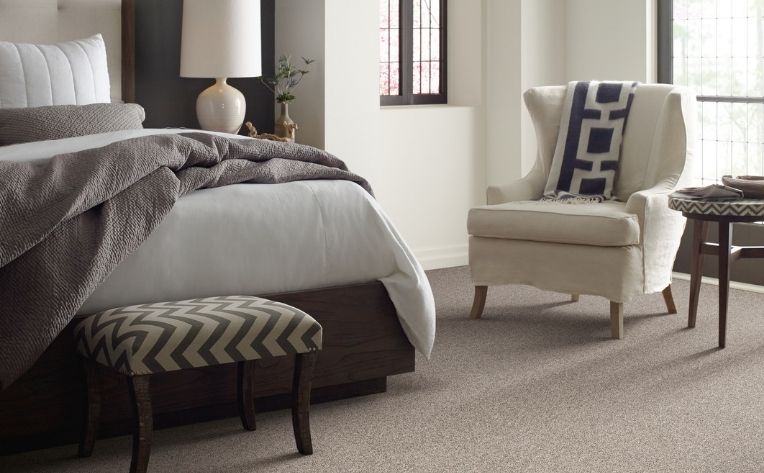 Start with your floors first, adding a layer of cozy comfort that's hard to resist this winter season with soft carpets, shag area rugs and plush pillows. Resista Soft Style's Let's Go in Larimer carpet is the perfect companion for any bedroom or living room. Featuring the popular casual styling of a textured saxony construction that doesn't show footprints these silky-soft fibers have a deep pile that's sure to bring a fresh, inviting appeal to any space. It's incredible performance wear includes stain-resistance, so you don't have to worry about spills when you have guests over for a warm mug of mulled wine by the fire.
Add Elevated Mood Lighting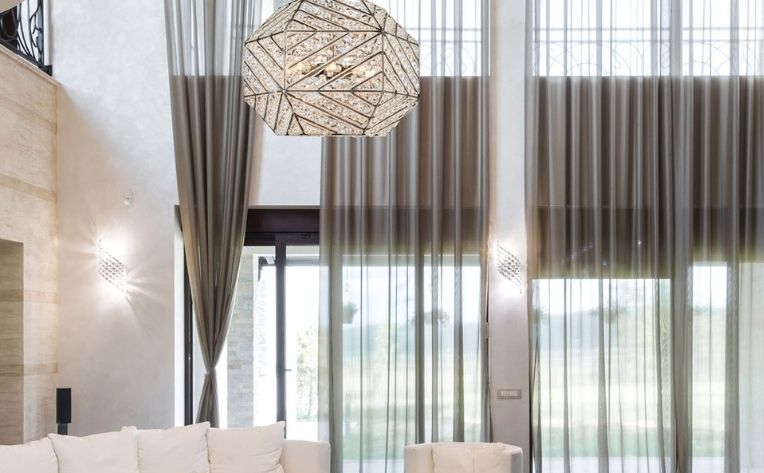 Once you've got your cozy flooring covered, set the mood with statement lighting. Beautiful glass chandeliers and brilliant gold light pendants work to catch the eye but what's even better? A combination of the two! With Elk Group's Construct 8-light chandelier in weathered zinc and clear crystal, you can have the best of both worlds. Combine the shine of muted zinc with light refracting crystallized glass to create stunning mood lighting for any room of the house.
Incorporate Stunning Tile Backsplashes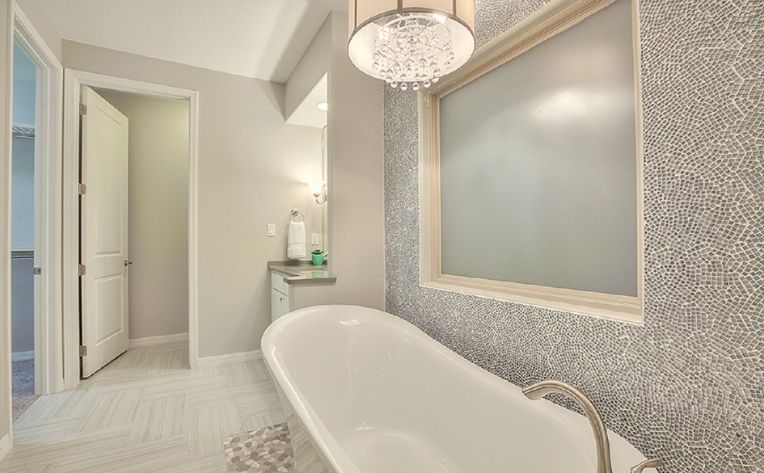 Nothing quite shines as bright as a tiled silver backsplash. Level up your bathroom and kitchen spaces with the glimmer of silver this holiday season, either with a silver studded diamond mosaic accent wall in the master bath or with a glittering hammer metaled tile behind the kitchen stove. Soci's Polar Arabesque tile, for instance, combines the charm of old-world patterns with contemporary metal finishes and cool silver tones.
Bring in Silver and Gold Accent Pieces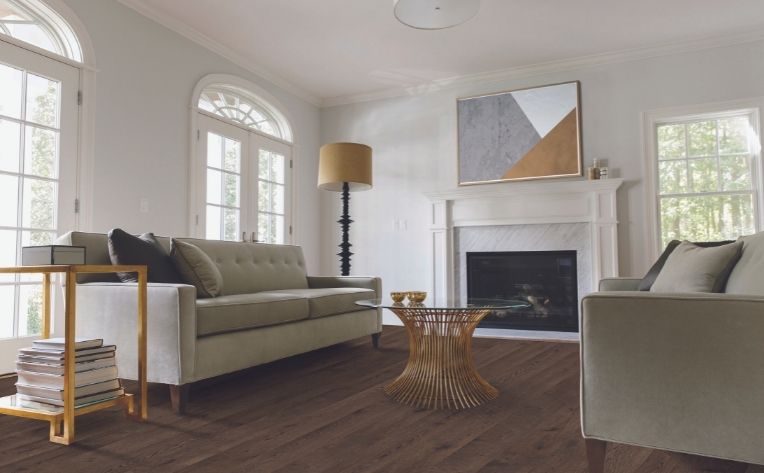 Turn to decor to add the finishing touches to your elegant 'glim and glam' style. Gold rimmed mirrors, accent tables, bronze bookends and jeweled wreaths all use the neutral color palettes of metallic accents to beautifully top off your space. It's a myth that metal accents can't be mixed together, as many metal finishes can be combined to elevate your interiors. Gold and silver, for example, can complement each other nicely with gold bringing out the rich warm jewel tones in the room while silver balances it out with underlying cool gray and white tones.
Looking for more holiday inspiration and designer tips on how to transform your home? Browse our latest issue of the Design at Home magazine to read about the trends and styles that are seizing the season.
Continue Reading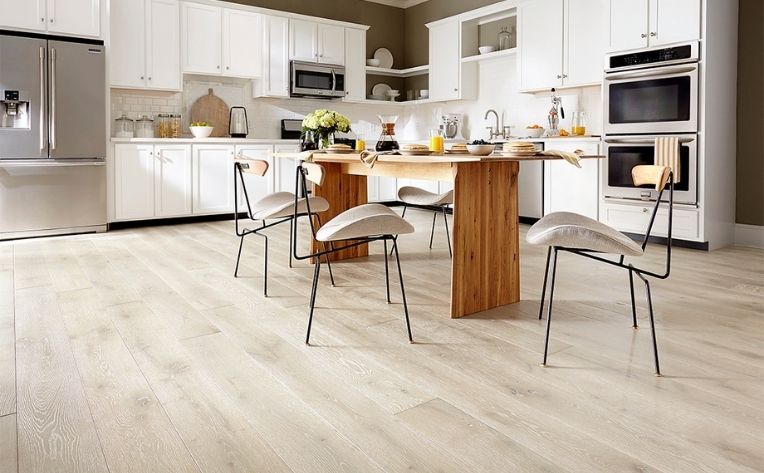 Dec 01, 2021
When shopping for new floors, one of the first ways to narrow down your search is to ask yourself if you want your floors to be light or dark. Maybe you think dark floors would make your space feel too small. Or maybe you're worried that you'd spend all your time cleaning your light floors, to keep them looking brand-new. Whatever you might think you know about light and dark floors, it's probably only scratching the surface. We'll take you through all the factors that you should consider when deliberating light or dark floors.
First, you may not know as much about floors as your local Flooring America expert, but your initial preference is probably a good place to start. Think about interior designs trends that you are repeatedly drawn to, and that will give you a good idea of your own taste in floors. Next, look at the existing style of your home. While new floors are one of the higher home improvement costs, if you don't have room in the budget to update the rest of your space, it might be a good idea to choose a floor that works well with the other elements already there.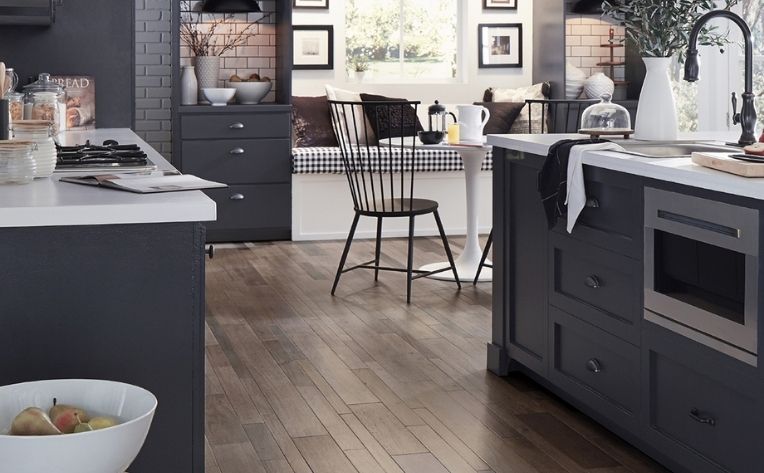 The good thing about light floors is that they go with almost any aesthetic, bring airiness to a space, and match easily with other shades when choosing wall colors and furniture. Dark floors work with a more dramatic style, adding sophistication, coziness and contrast for other bright décor elements to pop.
The next step is to evaluate how much light there is in the space where you will be updating the floors. If it's naturally darker, fewer windows to let in light, then lighter floors may help brighten up your space. If the room is already naturally bright, you may have an opportunity to choose a more striking dark floor. Most people believe dark floors make a room look smaller, and light floors make a room look bigger. That is true to some degree, but since there's more wall space in each room than floor space, wall color has a great impact on the overall look of the room size-wise. In general, dark floors are better suited for larger rooms and open floor plans.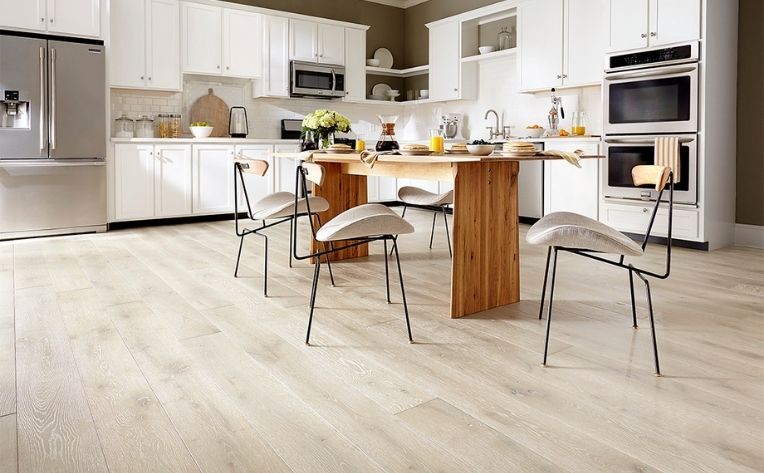 Another seemingly unrelated factor to consider is how often you clean your floors. Light floors can hide small flaws, dirt, and debris, but anything larger will be very noticeable. Dark floors, on the other hand, can require less maintenance since dirt tends to blend in more –but keep in mind they will still need to be swept often as dust and pet hair shows up easily on dark floors. So, consider your personal cleaning habits when deciding between light and dark floors.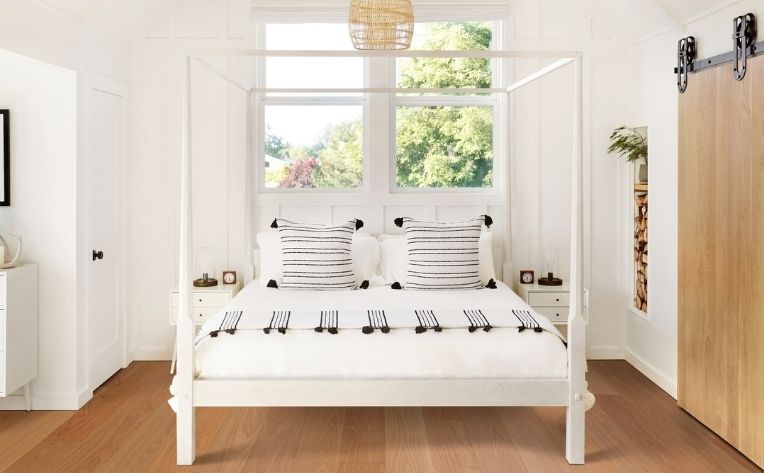 If you are a pet parent, keep in mind that scratches are less apparent on light floors, but if your pet has dark fur, it will be more apparent on light floors. There are always scratch-resistant flooring options that you could install for a dark floor that is four-legged-friendly.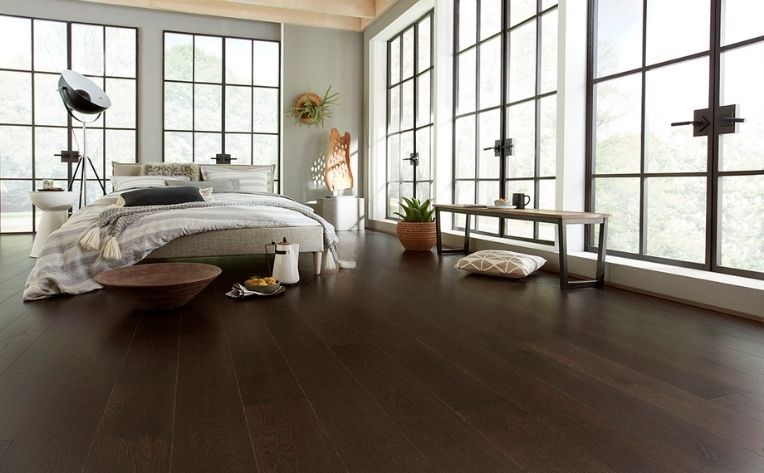 Still not sure whether light or dark floors are right for your home? Try Flooring America's simple My Floor Style tool to easily preview how light and dark floors will look in your room. You'll get an accurate visualization of any beautiful floor you want, right in your own home with no surprises.
Continue Reading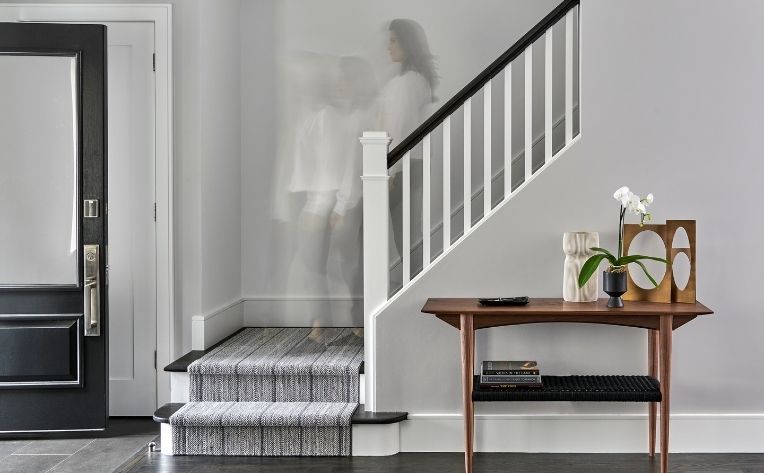 Nov 29, 2021
Interior design by SARA BEDERMAN DESIGN | Photography by STEPHANI BUCHMAN
Q: What were the needs of your clients, and how did you consider them when designing this space?
A: Our client needed a comfortable urban home that was uncomplicated in design. The furniture needed to be luxurious but not fancy, comfortable but still neat and tidy. Everything we designed and specified was chosen based on these criteria.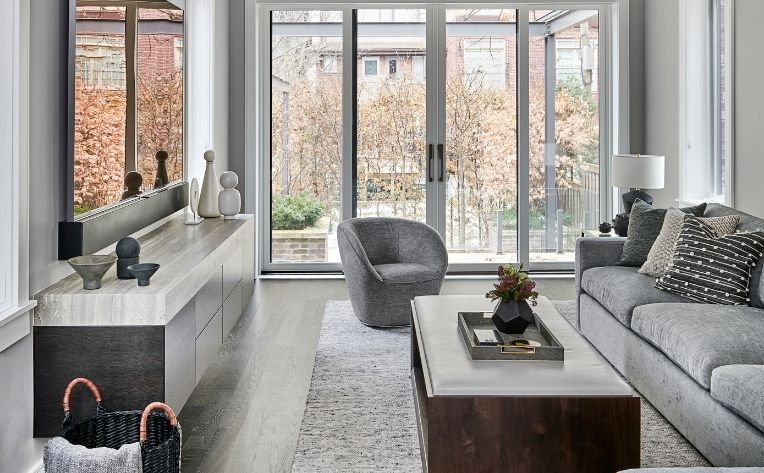 Q: The family room has a lot of clean, contemporary lines mixed with comfortable furniture. Talk to us a little bit about how you chose these softer textures, low-slung couches and mixed cool gray tones to tie together the space.
A: Our client wanted a large sofa to fill the awkward shape of the family room. Both the homeowner and his children are quite tall, so a deep, large sofa was what made sense for their lifestyle. We created warmth and welcome in the space through different textures in shades of gray. This palette creates a calming environment perfect for relaxing in after a long busy day.
Q: The dark hardwood floors installed throughout the home are gorgeous—how did you choose this style of wood flooring? Do you feel it inspired any other elements in the house?
A: Wood is one of my favorite materials to use on floors, cabinetry, and furniture. We try to throw it in whenever we can. The stain of the hardwood was custom mixed to give a deep brown, almost gray, tone to complement the gray upholstered pieces in the home.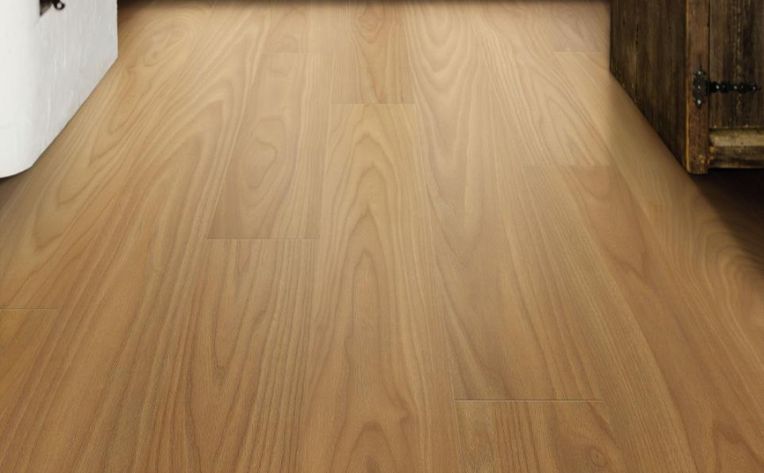 Q: The living room is stunning from the minimalist gray stone fireplace down to the unique floor lamps. How did you decide what elements to draw from when it came to decoration?
A: The fireplace was definitely the feature and the anchor of the space. It acts as a beautiful sight line in the home, and we used the upholstered furniture in the living room to soften the contemporary simplicity of the fireplace design. We kept fabrics quite monochromatic, working mostly with texture rather than pattern and contrast or color pops.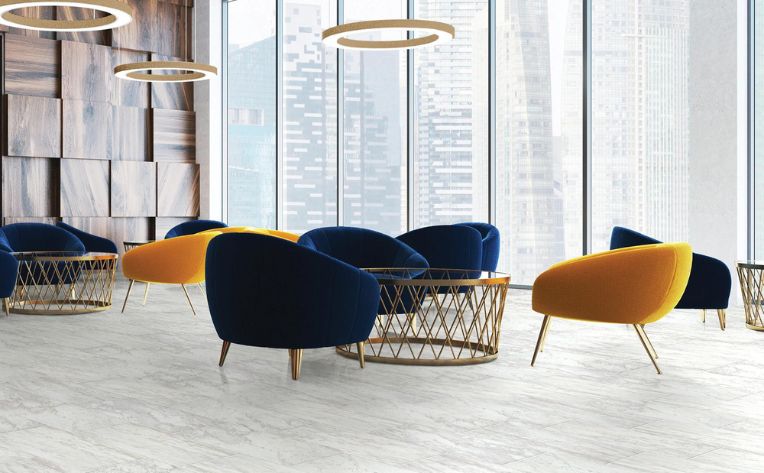 Q: We love how personalized and yet elevated the boy's bedroom turned out. How did you go about designing the kid's room to find a balance of playful aspects and materials that can function as they grow older?
A: Designing for the future is key in children's bedrooms. Finding furniture that can grow with a child is so important. We added decor items that reflect some of the kids' passions and kept the furniture age-appropriate with a little extra sophistication to last through the years ahead.
Q: There's a lot of baseball paraphernalia scattered throughout the house. What was the inspiration behind the client's baseball-themed home office?
A: The client is very passionate about baseball and wanted to highlight his favorite baseball memorabilia.
Q: What are some things to keep in mind when designing entryways to create a functional family mudroom?
A: Storage and surfaces are essential elements in a mudroom. Somewhere to put things away as well as a surface to put stuff down are always elements we include in a mudroom. A quick coat hook is also a very useful feature. We like to keep all the practical needs of a mudroom in the design and then elevate the space with great decor and fabrics when possible. We love a sophisticated mudroom.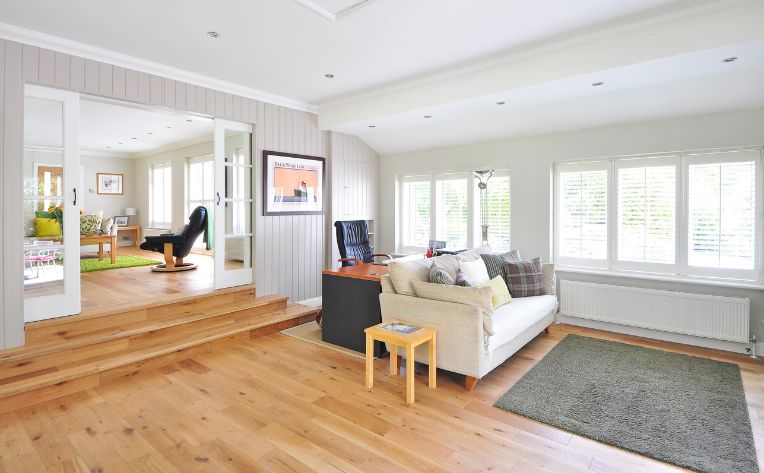 Q: How do you approach designing a home gym when you're working with limited space?
A: We really work within the available footprint and plan a reasonable amount of equipment based on the size of the space. It does not make sense to include more equipment than can fit without ample space to circulate in the gym. A hard-surface flooring solution and lots of mirror panels are key elements in every gym we design. Space to move around is something we pay close attention to as well. A gym should not feel cramped, if at all possible.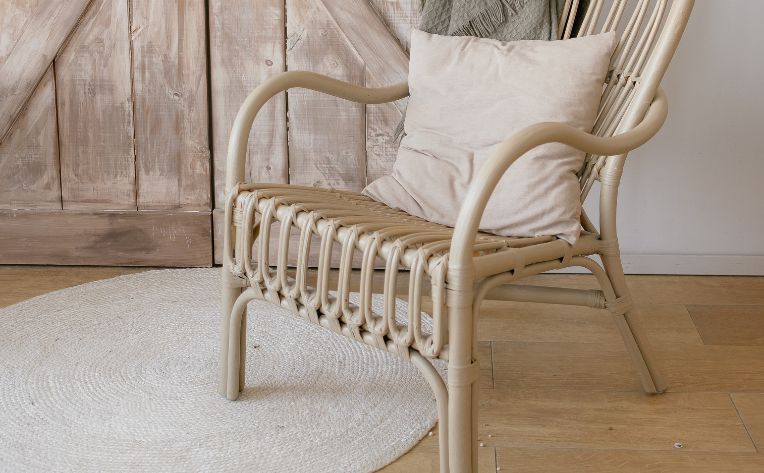 Q: We love the use of incorporating storage into the wall space in the bedroom. How did you work with the slanted ceiling in here to create more space?
A: This bedroom did not have a pretty or functional closet solution, so we decided to demo the closet and replace it with a beautiful millwork concept full of storage space. The angled ceiling was very challenging to work with when planning the concept, but working through complex space planning is one of our favorite design challenges. We get excited to problem solve!
Q: This walk-in closet has beautiful built-in cabinets and is the ideal accompaniment to any master suite. Was there originally a closet here, or was this on the client's must-have list?
A: This was an existing walk-in closet that we redesigned and refinished. The cabinetry has a beautiful wood grain finish that adds texture and masculinity to the principal suite.
Read more about home trends and designer inspiration from our fall issue of the Design at Home magazine.
Continue Reading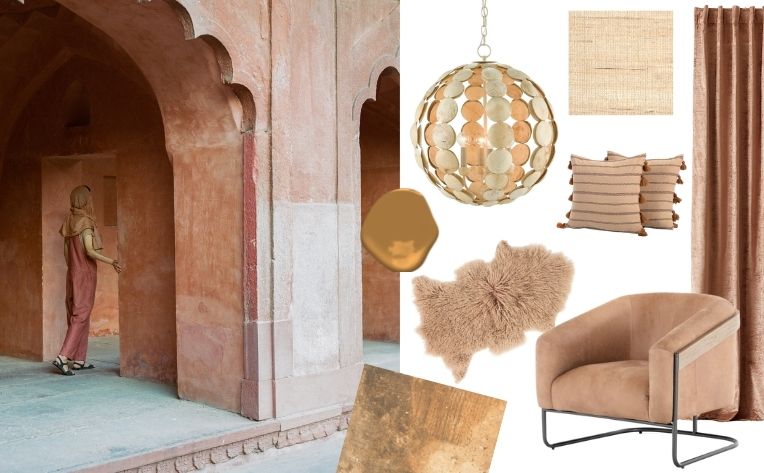 Nov 22, 2021
Fall into autumn with a samba sandstone color palette of inspired designs from bronze light fixtures built to brighten the dark of the year soft velvet couches and chairs in warm cinnamon tones that are perfect for curling up with a mug of hot apple cider. When you think fall, you might think of pumpkin-spiced lattes, warm fireplace mantels, changing leaves, and sweet apple pie —but what is one thing that all of these have in common? Their muted orange to soft beige-brown hues.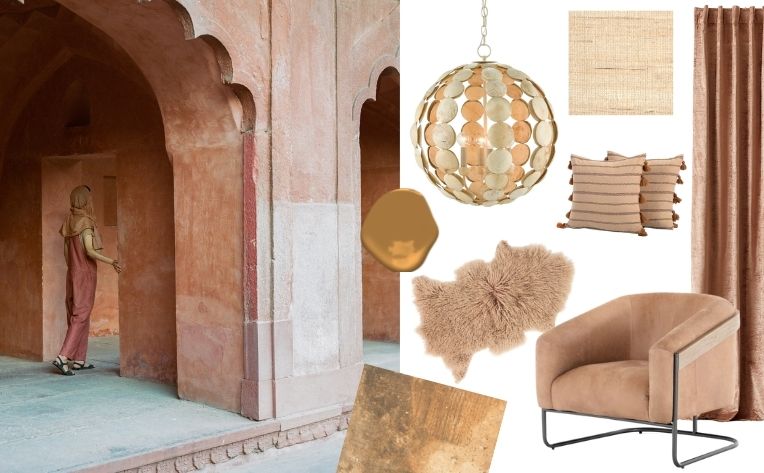 Cotton Viscose Camel Curtain Panel by CB2; Couture Rug PR130 Beige by Nourison; Vishnu Stripe Pillows Set of 2 by Scout & Nimble; Camel 2165-10 by Benjamin Moore; Tartufo Coco Shell Chandelier by Currey & Company; 52044 Current Wallpaper by JF Fabrics; Etta Chair in Winchester Beige by Scout & Nimble; Newberry Glazed Porcelain Tile by Emser Tile
As we approach the winter season and the days get shorter, we lose a lot of natural light which can often make us feel a little stir crazy. One way to maximize your productivity and boost your mood is by bringing natural color palettes indoors. Thanks to our latest issue of the Design at Home magazine, we aim to do just that with this season's coveted color: samba sandstone.
Incorporate Beige-Toned Tile Designs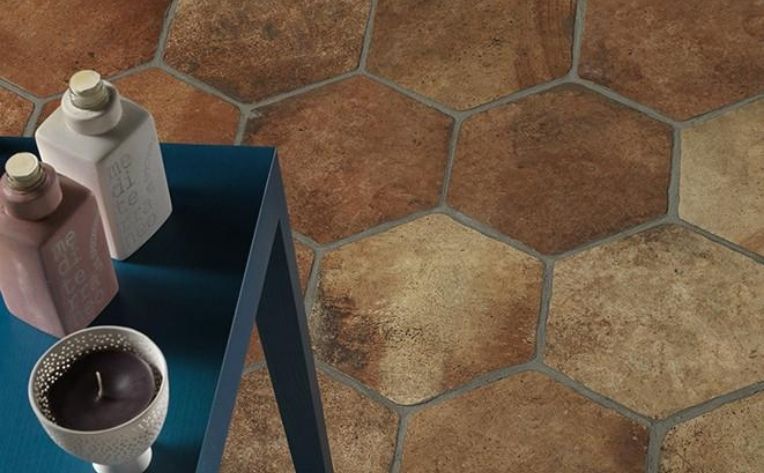 Newberry Cotto Glazed Porcelain by Emser Tile
Install beige-toned tiles as backsplashes, accent walls, and flooring throughout your home. Updating bathroom and kitchen sink backsplashes with earth-toned ceramic or glazed porcelain tiles are a beautiful way to spruce up your home design. Plus, these warm brown-hues pair well with kitchen and bathroom hardware in bronze, gold, and copper finishes. This glazed porcelain tile by Emser blends contemporary design with old-world charm with its brick-fired appearance. Although the tile is available in multiple shapes and sizes, for a fun modern design, opt for the 10" by 11" hexagon in Newberry Cotto.
Use Soft Beige-Brown Fabrics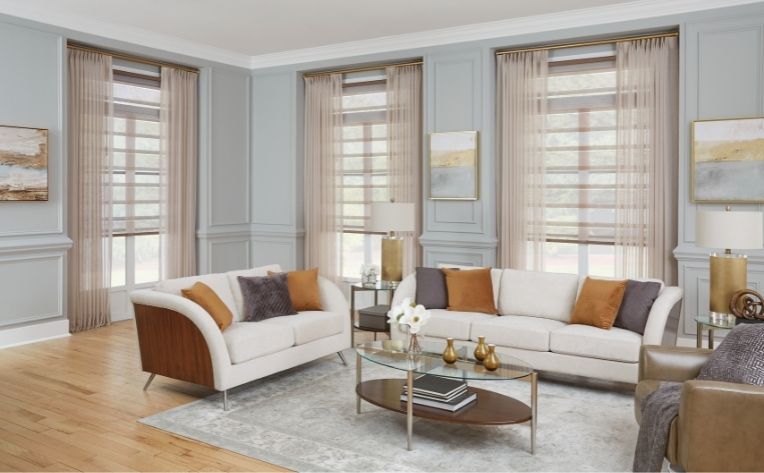 Roller shades by Graber
Select drapery, accent pillows, throws, rugs, and furniture in soft sandy brown colors to create warmth this season. Whether you choose a new set of brown velvet pillows for the living room or a soft camel-colored leather chair for the bedroom reading nook, these samba shades are sure to warm up your room. Window treatments are always a great place to start when it comes to updating your home for the winter —swap out light drapes for heavier curtains and roller shades to keep your home insulated during the cold months.
Install Samba Colored Floors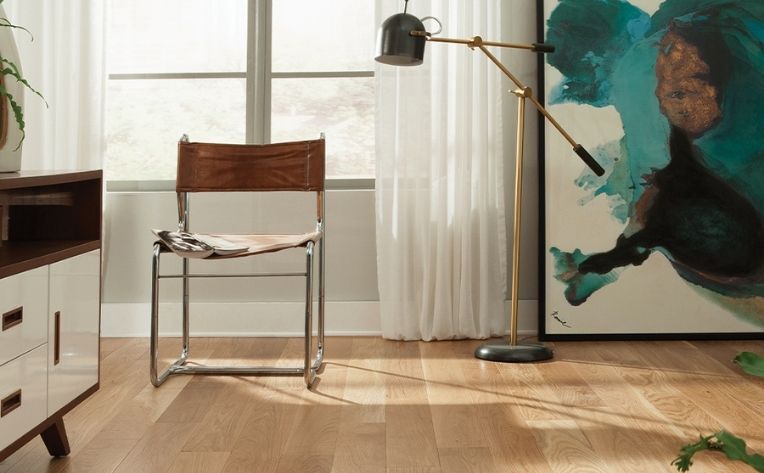 Dumont White Oak Natural by Mullican
Maybe you're hoping to update the carpet in your bedroom or want to install a new hardwood floor throughout the whole first level —regardless of the flooring, a samba sandstone color palette is the perfect place to draw inspiration from. Because it pulls from neutral shades of brown and beige, these floors will be easy to match with any decor theme or design style you choose. Instantly elevate your home design with beautiful new white oak floors in a sandy-blonde finish.
If you're not ready for a complete floor renovation, just update your area rugs and throw rugs. These are easy to swap out with the changing season and this adorable beige couture rug by Nourison is the perfect way to tie in warm Scandinavian design elements.
As always, if you're still struggling to find the perfect shade of floors for your home or want more design advice, consult the experts at your local Flooring America. Looking for more interior design and seasonal inspiration? Check out the fall issue of our Design at Home Magazine.
Continue Reading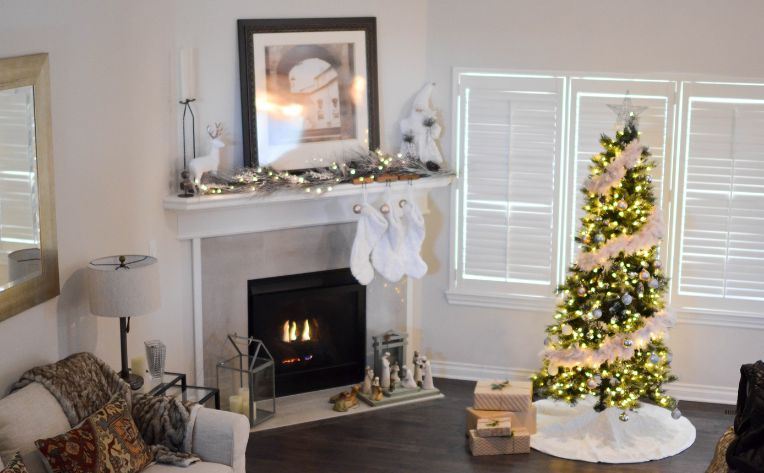 Nov 05, 2021
A beautiful architectural staple of the holiday season, fireplace mantels have a multitude of uses. Not only are they great for gathering around the fire when the weather is cold, but they also make for stunning decor focal points!
Sitting by the fire with a cup of hot chocolate and a good book is a favorite chilly weather pastime for many. Most people assume that to relax and unwind, you need a large fireplace or a wood-burning stove to congregate around, but modern-day mantelpieces make this unnecessary. With the right tools, you can easily recreate this traditional holiday scene with a simple mantel.
One of the best parts of incorporating a mantelpiece into your home design is that you can restyle it based on the season. Trade winter wreaths and candles for fresh flowers and books in the summer, or place a gourd alongside some dried pampas grass in the fall. Styling your mantel is easier than you think, especially once you've figured out how to balance your larger pieces with natural elements to create a blend of visual interest. Follow these seven simple steps, and before you know it, you'll have the coveted mantel of your dreams.
1. Find an Anchor Piece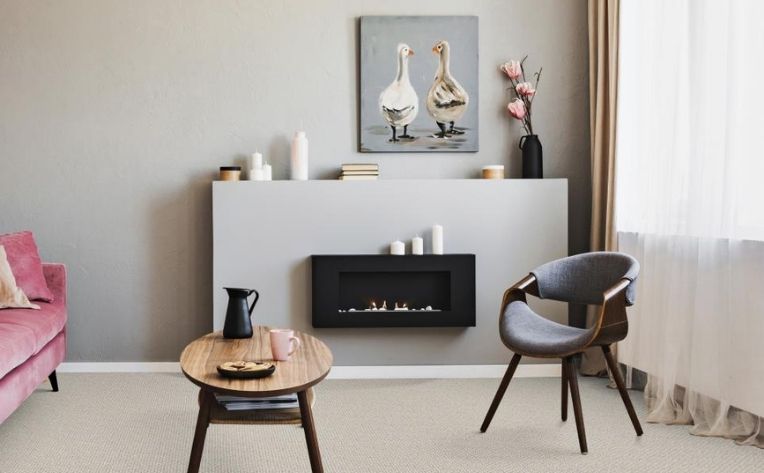 Valley Drive Plus by Hearth & Home in Wood Ash
Showcase a large figurine, wreath, or mirror as a focal point to draw eyes toward your mantel. Finding an anchor piece isn't always a simple task because this sets the tone for the rest of your mantelpiece. For instance, if you choose a simple blue vase as your focal point, you're setting the tone for a minimal and elevated style, whereas if you choose a large garland, you're creating a more traditional holiday-themed mantel. Whichever style you end up choosing, make sure that the other decor items match the focal point in color, texture, or shape.
When looking for an anchor, keep in mind the size of your mantel. You don't want to overwhelm the space with only one item. It is better to err on the side of caution and keep things simple by sticking to the rule of two-thirds: your main piece shouldn't take up more than two-thirds of the mantel, so that you have a visually balanced mantel scene.
2. Add Height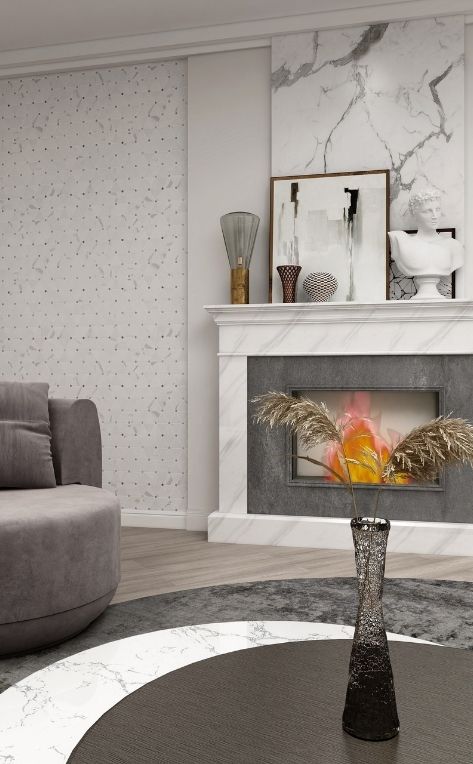 L'Amour White Cut Polished Tile by Emser
Use taller items, like a gold pedestal stand or candlesticks, to add height and give your mantel visual interest. These design details add exciting shapes and textures with their varying levels to create a space that has depth and fluid movement.
Start with width and play with height based on your ceilings. If you have taller ceilings, opt for taller figurines, candles, and statement pieces, but be sure to balance these objects out with wider pieces. With lower ceilings, keep decor items long and horizontal.
Elevate smaller decor items by placing them on top of a stack of books or a box so that the small object layers nicely in front of the larger statement pieces like mirrors, paintings, and art.
3. Use Natural Materials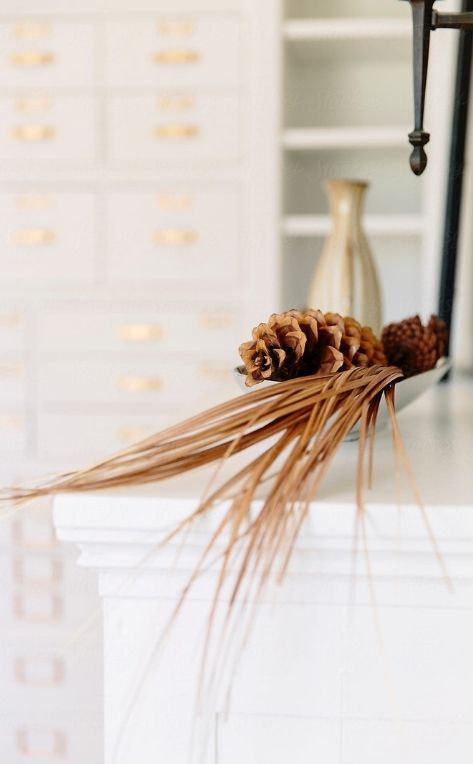 Add a living element to your space. This could be pinecones, dried flowers, tree branches, or whatever you might find outside your door that you admire. Adding living elements reduces the risk of your mantel feeling too static or stiff. These items also break up the structure of the solid pieces on your fireplace by making it look more personal and breathable. With just a touch of greenery or a dried floral arrangement, your mantel can come to life.
Take the natural details one step further and install a hardwood floor or a stone tile inlay near your mantel. The natural warmth of hardwood exudes coziness with its timeless style and will lend a bit of tradition to your mantel. If you're looking to personalize the area around your fireplace, wood inlays and mosaic tiles are a great way to do this. Who doesn't love a unique tile mosaic? And with parquet flooring on the rise, now's a great time to install hardwood floors with a border of stack bonds or herringbone patterns in your living space. From basket weave to Chantilly, there are endless options to get creative with your wood inlay.
4. Layer in Warm Textures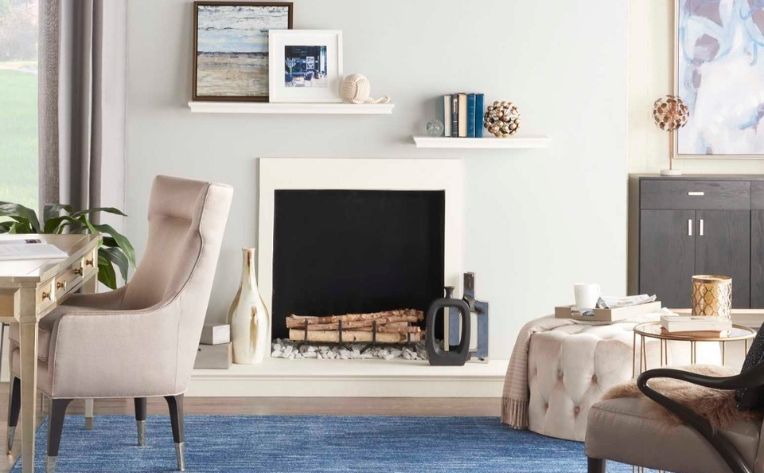 Nourison Essentials Navy Blue Area Rug
Give your space more dimension by clustering objects together to create a layered effect. There are several easy ways to do this: greenery, staggered figurines, and varying height levels of items. Place your most significant piece as the background portrait for your mantel, and let smaller items shine at the forefront. Don't forget to use the base of the fireplace by adding in items like a basket of pillows or a box of stacked wood.
Place an area rug in front of the mantel to give the room a snug feel. Many older wood-burning fireplaces have granite or brick hearths extending in front of the stove; however, most modern fireplaces do not. This is where a simple area rug can substitute as a decor (and safety) element. Wool area rugs are perfect when it comes to durability and style because these can protect your hardwood floors and carpeted areas from scratches and debris, as well as dust in the case of a functioning wood stove. Dress up your mantel with a beautiful area rug in a pattern and pile height that suits your design needs.
5. Don't Overcrowd the Space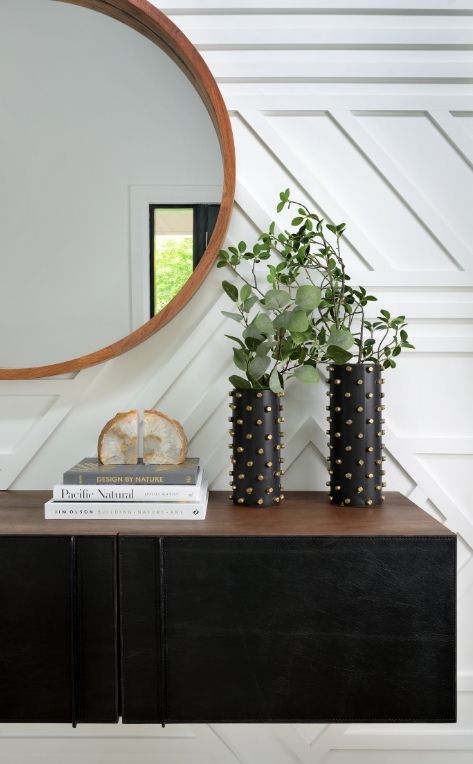 Design by MICHELLE BERWICK Photography by LARRY ARNAL
Keep it simple. Depending on the size of your mantel, you typically only need three to five items to rest directly on the mantel. One of the biggest mistakes people make when decorating their mantel is overcrowding. Sometimes, it's hard to pare down your most treasured seasonal items, but this is necessary to create a beautiful display. A good rule of thumb is to place large decorative pieces toward the middle of the mantel with smaller items flanking them on either side.
6. Find Balanced Asymmetry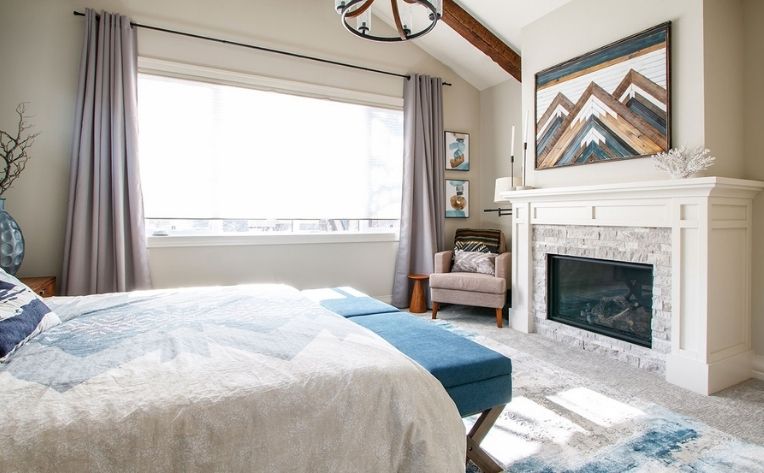 Design by LOUIS DUNCAN-HE DESIGNS
You don't need everything to be "just so"—in this instance, perfection isn't always better! Unmatching your mantel is key to creating a dynamic focal point that adds to the texture and style of the overall room.
This doesn't mean that you can't position objects on either side of your mantelpiece. In fact, we encourage you to utilize the space by flanking either side of the mantel with a lantern or a small basket for blankets or kindling. Asymmetry provides a sense of comfort and gives your home a lived-in feel.
Consider balanced visual weight because you don't want one side of the mantel to appear heavier than the other. Do this by grouping objects in odd numbers with smaller items on one side and a few larger pieces on the other.
7. Top it Off with a Personal Touch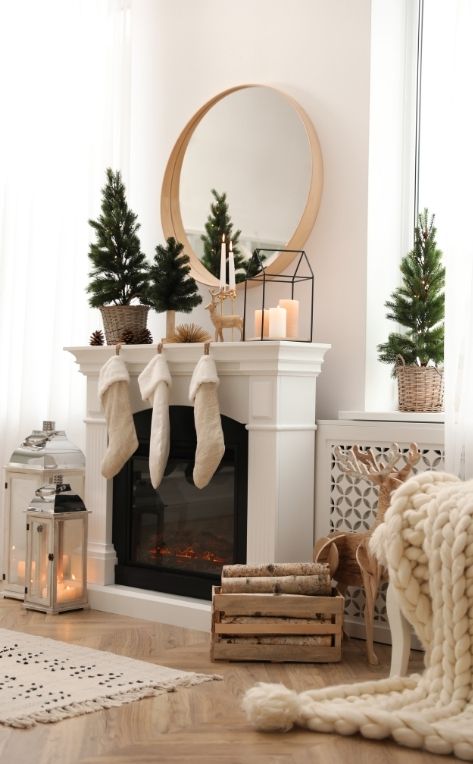 Throw in a statement piece that means something to you. Displaying sentimental pieces adds warmth to your space. Your mantel doesn't just have to be the traditional garland, stocking, and twinkle lights you find in the holiday season.
Take time to consider which objects are most meaningful to you—perhaps you have an old piece of art you bought while traveling or an heirloom ceramic vase from your grandmother that you've never found a proper place to display. Use this space as a tribute to the items that bring you joy and comfort. You'd be surprised at how well things can come together with the right arrangement and some added greenery.
Continue Reading