Floor Care and Cleaning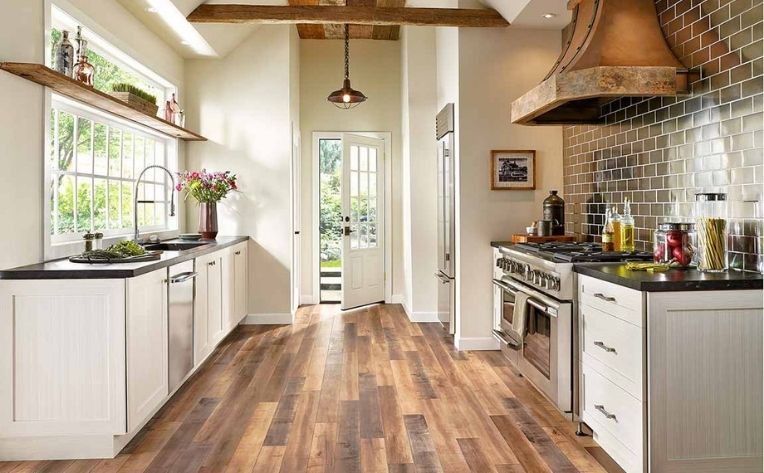 Nov 24, 2021
If you're looking to replace your old kitchen floors but don't want to break the bank, there are still plenty of inexpensive flooring options out there to choose from. We'll look at some flooring materials that you probably encounter every day, and some other more unorthodox options that you may not think could save you money.
Stylish Vinyl Flooring
Recently, the number one option for inexpensive kitchen floors has been vinyl flooring. Now, when you think of modern vinyl, this isn't your grandparent's vinyl flooring. Today, there are tons of new styles and designs, making it easy to find the perfect floors to fit your home. Vinyl is great for the kitchen since it is incredibly durable, waterproof, and scratch-resistant, making it a low-maintenance option ideal for high-traffic areas.
Vinyl flooring is available in sheets, tiles, or planks, making installation easy no matter what your existing kitchen floor situation is. Plus, you can often install vinyl flooring right over your subfloor or on top of your existing kitchen floor, which could save you money on installation costs. Installation varies depending on the type of vinyl you choose. Many of the tile, plank, and sheet styles are peel-and-stick with an adhesive backing that you place directly on the subfloor or over your existing floor. Of course, if you're looking for higher-end vinyl, consider upgrading to luxury vinyl flooring. The most DIY-friendly option, luxury vinyl plank is typically a bit thicker than other vinyl flooring and is clicked together to install as a floating floor.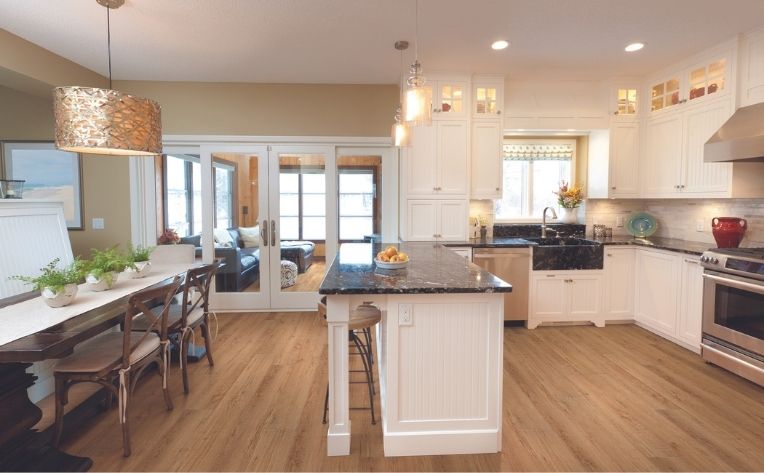 Wood-Look Laminate Floors
If you love the idea of hardwood floors in your kitchen but can't afford the real thing, check out laminate flooring. It is an inexpensive option that does a great job of imitating more expensive-looking floors like hardwood and stone. Laminate flooring is similar in cost to vinyl flooring but slightly less durable. Laminate holds up against scratches and stains, but because laminate planks have larger seams, they are prone to water damage if not carefully looked after.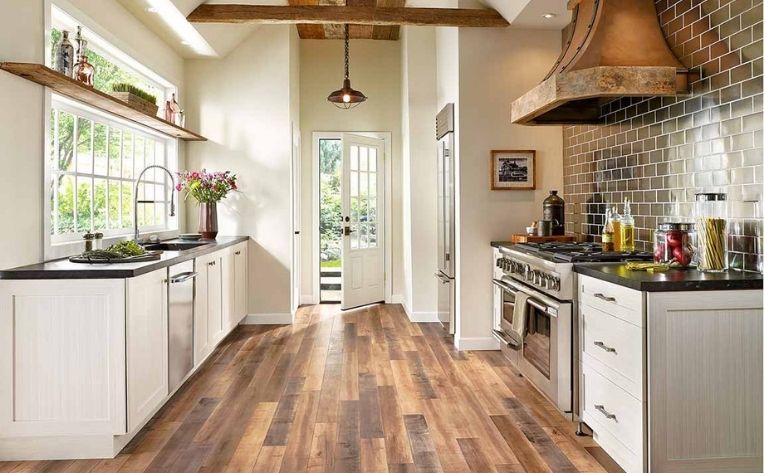 Long-Lasting Tile Flooring
Looking for a kitchen floor option that you won't need to replace again soon? Ceramic tiles come in all sorts of shapes and colors, and with that, they range in price as well. You can find low-cost tiles that are virtually indestructible and give your kitchen a clean, simple style that will last just as long as more expensive tiles. However, tile can be expensive to have professionally installed, so remember to factor that into your overall budget.

Unconventional Flooring Options
A less traditional option for kitchen floors is cork flooring. Cork floors are economical and eco-friendly since they are made from tree bark that grows back after harvesting. Plus, cork is warm to the touch, water-resistant, and extremely cushiony compared to other flooring options. This makes cork a great choice for your kitchen, where you'll be standing for hours cooking and cleaning. It is more likely to sustain damage than some other flooring options but overall is still a low-price, low-maintenance option.
If your dream kitchen must have true hardwood floors, we have good news. There are affordable oak flooring options out there. Try looking for unfinished utility oak for a more budget-friendly hardwood floor. Typically, these planks will have defects, knots, and splits, but if you're creating a rustic kitchen space, they will work perfectly. For a more refined design, you can sand and finish the floors after installation for an added cost.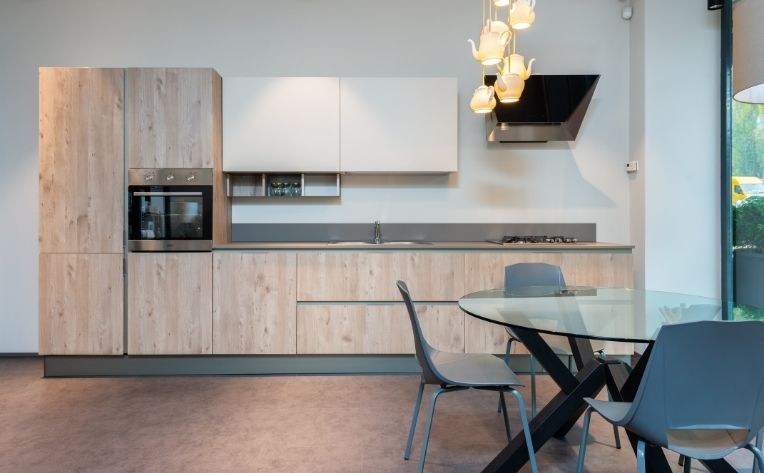 Linoleum floors have a slightly higher price tag than some of the other options we've covered, but they are known for their longevity. So, if you find a style of linoleum you like, you can be sure that your choice will hold up against scratches and other types of damage for many decades.
For those looking for a chic industrial kitchen, consider stained concrete as an inexpensive option. You'll need to make sure your kitchen is built on a concrete slab foundation to support the weight of the floor. Poured concrete can now be stained and have subtle textures added to create a floor unique to your kitchen.
Whether you're looking to quickly install new flooring over your existing worn-out floors or overhaul your kitchen floors entirely, the experts at your local Flooring America can help you find the option that is right for your budget.
Continue Reading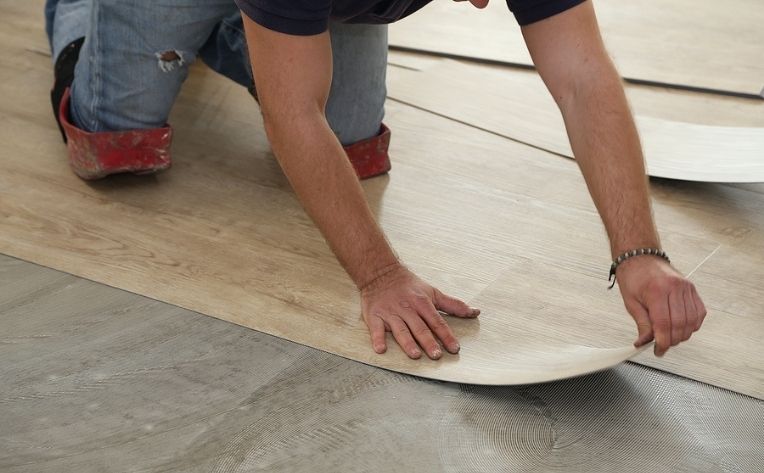 Nov 17, 2021
There's a lot to know when it comes to installing flooring. Remember, your local Flooring America experts are a great resource when it comes to starting your project. They have all the tips, tricks, and overall know-how to help see your home improvement project through to completion.
As luxury vinyl flooring grows in popularity out of the high demand for waterproof flooring and its infamous easy-installation process, we thought it would be a smart idea to give a little insight into the installation process.
As always, before you dive into a home improvement project, you'll want to create a budget for yourself that you can stick to. There will be obvious costs like tools and materials, but some other costs may not occur to you right away, like removal and disposal of your old floor. Problems may arise that you cannot see until the project is started, like a subfloor needing repairs before a new floor can be installed. Things like moving furniture can cost you unless you are able to take care of that yourself. When calculating how much flooring you'll need, factor in more than the square footage you've measured. This will cover you in the case of a flooring defect, mistakes in installation, or replacements you may need to do in the future.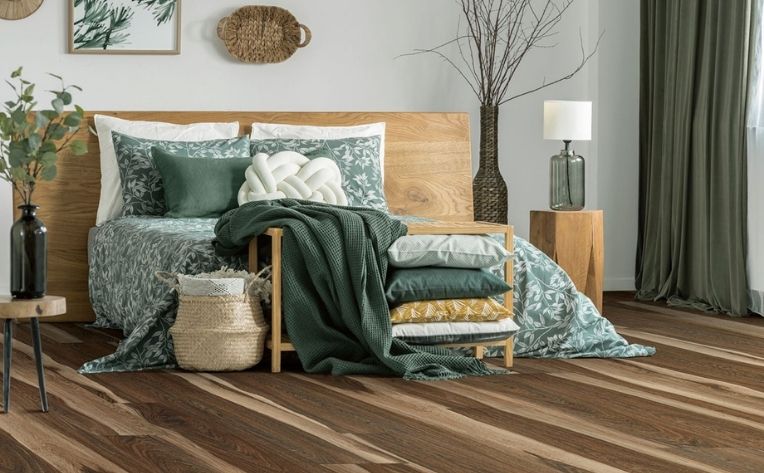 Installation can vary by type of luxury vinyl flooring. Be sure to check the product page of the style you're interested in to see what is listed in the details. We highly recommend hiring our skilled installation team at Flooring America to perform your luxury vinyl installation as they are familiar with our brands and products. DIY installation can be tricky and can put your floors out of warranty.
Some luxury vinyl flooring comes with a self-adhesive that you peel off and then stick the flooring where you want it. This sounds easy, but be careful of bubbles that may occur if the vinyl is not laid out smoothly during installation. Other styles can come with a locking system, where each tile or plank will snap into one another, and the vinyl will sit above your subfloor. In other cases, the vinyl flooring will simply be glued directly to the subfloor, which can potentially get a little messy.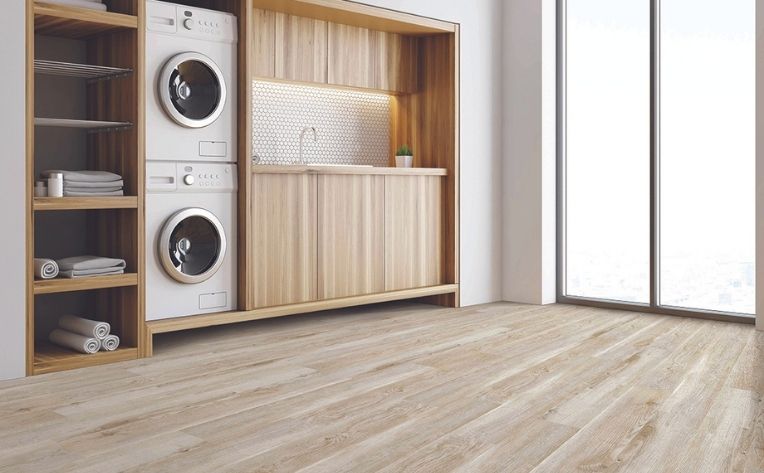 When installing new luxury vinyl flooring, you should always explore an underlayment. An underlayment can help smooth out any minor defects in your subfloor, add cushioning to your new floor, dampen sound, and act as a moisture barrier. There are a lot of different types of underlayment, so make sure you find one that is compatible with the luxury vinyl you are installing.
If you're set on DIY'ing this floor, consult your floor's warranty guide to make sure that you are following the set guidelines and don't damage your floors in the process. There are some tools and materials you're going to need to complete most flooring installations—first and foremost, a good pair of kneepads. You're going to be down there for a while, and it could get uncomfortable. Kneepads will save you some pain. You'll also most likely need a tape measure, a miter saw, jigsaw, utility knife, mallet, puller tool, straight edge, tapper, and spacers.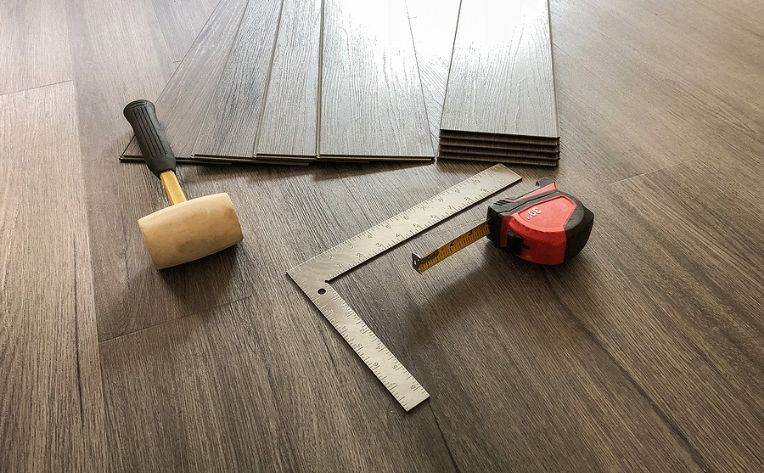 The type of installation is a major factor when determining whether this is a project you can take on yourself or if you should hire a professional to install your luxury vinyl floors. You should also think about the size of the room you're redoing. The margin for error is much greater in a dining room or kitchen than in a closet or laundry room. If you do decide to hire a pro, your Local Flooring America can connect you with a contractor in your area who has expert experience installing the style of floor you've chosen.
Continue Reading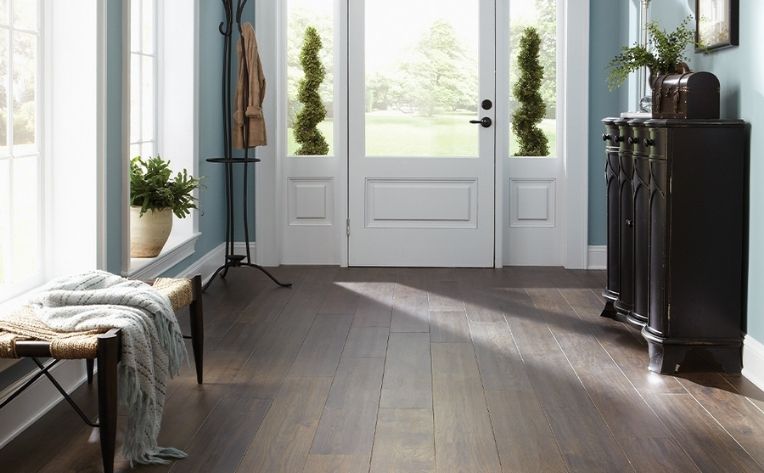 Nov 05, 2021
Your entryway can be key to making a great first impression on anyone setting foot inside your home. If you don't have the best entryway flooring made to withstand the outdoor messes that are tracked inside, you might end up finding that your floors need to be replaced time and time again to keep them looking nice. As the highest traffic area in your home, your entryway floors constantly take a beating, getting scuffed and kicked by shoes, boots, and heels that are constantly entering and exiting your house. When figuring out which flooring material is right for your entryway or mudroom, there are a few factors to consider:
You're looking to replace your entryway floors, and you want to make sure you won't have to replace them again for a long time, so durability is a big factor. You want something designed to last long, even under heavy foot traffic.
You want an entryway that is easy to clean. Think about those snowy or rainy days and all the dirt and moisture that can get dragged in. The longer that sits on your floor, the more damage it can do, shortening the lifespan of your floors.
Again, all that moisture being dragged in from outside can quickly damage your floors. There are many waterproof flooring options out there that will help fight off water damage and extend the life and look of your floors.
Obviously, floors aren't the first things that come to mind when you think of comfort. But depending on the material you pick, the wear and tear on your floors can directly relate to the wear and tear on your lower joints. Not to mention if you have any little ones running around, some flooring materials are more fall-friendly than others.
This one also seems obvious, but certain flooring materials are worse at conducting heat than others, which can lead to chilly toes and even increase the overall cost to heat your home.
As you review different flooring materials, remember that it's important to place value on function more so than looks. If you're shopping based on an existing style, don't throw all the other factors out the window just to match a pattern or color. Luckily, there are numerous durable options from luxury vinyl to ceramic tile that mimic hardwood looks so you can still access the natural beauty and style you desire.
As always, price is a factor in any home improvement project. Flooring materials range in price by square foot and can vary in installation costs. Don't forget to factor in the typical lifespan of the flooring material. You may end up spending less over time if your floors are built to last.
With all these factors in mind, you'll find that some flooring materials stack up better than others.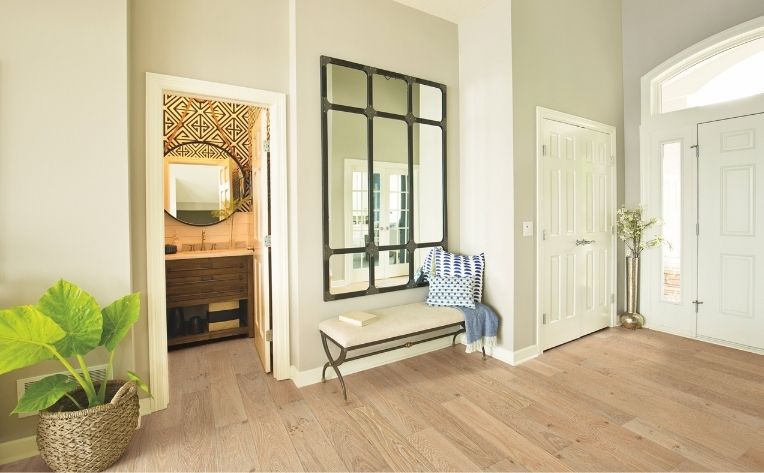 A popular flooring choice for entryways is porcelain or ceramic tile. Because these materials are so strong, they can withstand high foot traffic, and most are easy to clean. They also come in limitless styles, colors, and patterns to help establish your home's décor as soon as you walk through the door. Between the two tiling materials, porcelain has a slight edge over ceramic in terms of durability, which also means that it typically comes at a higher cost. In addition, that added durability means it's harder to cut, meaning it is costlier to install. But if you have the budget, it will be money well spent since you won't be spending more money any time soon to replace your flooring. If you're going with tile, look into a darker color grout for installation. This can reduce signs of heavy foot traffic, as dirt and grime are likely to collect between the tiles.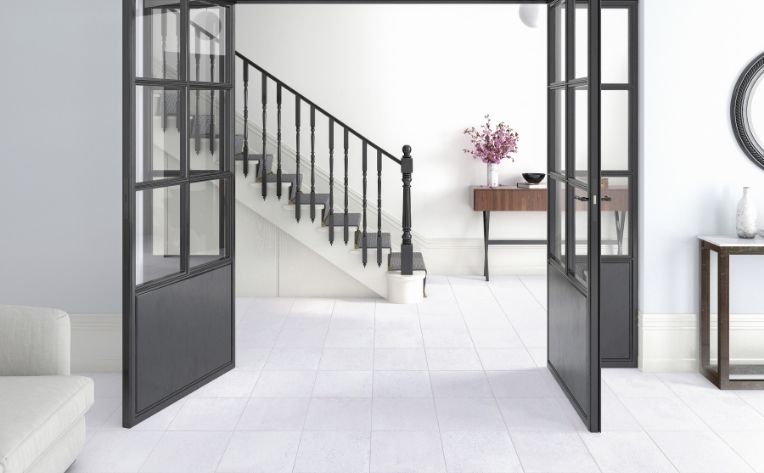 Another great option for entryways and mudrooms is laminate flooring. Laminate can mimic the traditional look of hardwood floors but in a material that is much easier to clean and longer lasting in a high foot-traffic area. Because laminate flooring is comprised of several layers, it has been designed to stand up better against scratches, stains, and other everyday wear and tear. Plus, just like tile, it comes in lots of different styles and colors to match the rest of your home no matter what. Since it's easy to install and fairly inexpensive, laminate is a great budget-friendly choice for entryways.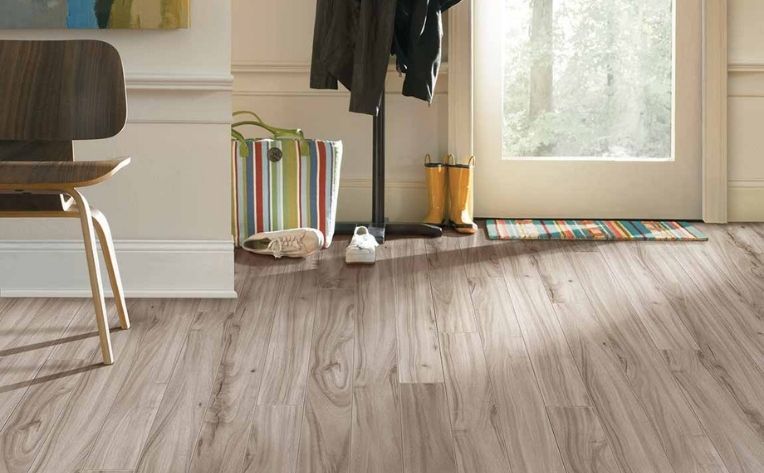 A recent trend picking up steam is concrete flooring. Because of its unmatched durability, this is a great option for any entryway. Once thought of as only a commercial property solution, the starkness of concrete floors is being worked more and more into residential décor. It lasts a lifetime, is easily cleaned, and can stand up to anything you throw at it. While it isn't as flexible style-wise as the other options, there are a variety of textures and subtle stains you can use to make your concrete floor feel like your own.
If you're set on making hardwood floors work for your entryway and aren't interested in laminate, explore engineered hardwood floors. These give the look of hardwood but have extra features built right in. Unlike traditional hardwood, engineered hardwood is more budget-friendly, and many styles are now waterproof. Now, you can elevate your entryway with elegant hardwood that has the durability to last even longer.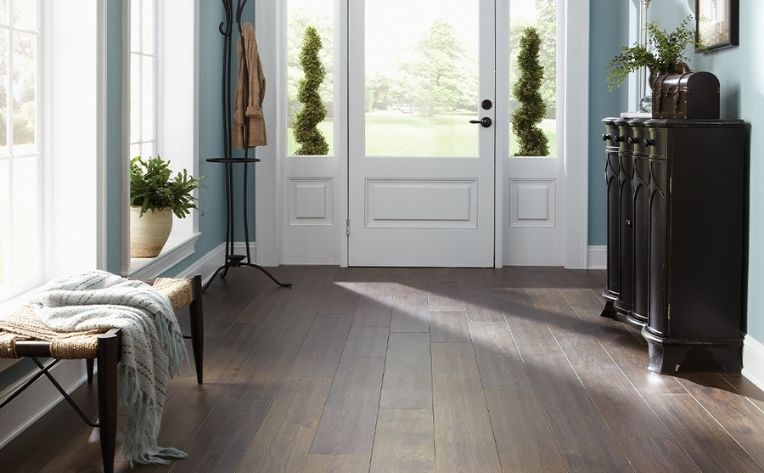 If you have any other questions about the right floors for your entryway, stop by your local Flooring America and talk to one of our experts. They've learned everything about floors, so you don't have to.
Continue Reading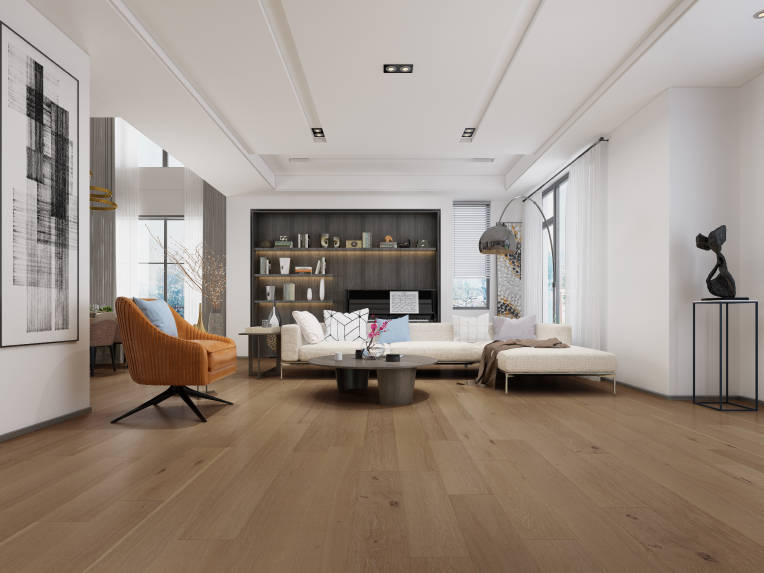 Nov 03, 2021
Winter is just around the corner, and if you're in the market for new solid hardwood floors, now is the perfect time to add that extra bit of warmth that they'll bring to your home. But before you make that impulse by on those gorgeous dark walnut planks and cozy up with a cup of hot cocoa, let's take a closer look at the basics of hardwood, the different types, and some other useful information to make sure you find the best floors for your home.
Hardwood Flooring 101
Before you consider your hardwood aesthetic and make stylistic decisions, there are a few things to keep in mind.
Engineered vs. Solid: Engineered hardwood flooring is constructed using multiple layers of wood, with each layer positioned in a different direction. Only the very top layer is solid wood, and even that is only a veneer. On the other hand, solid hardwood flooring is made from only one type of wood throughout the plank, and if well maintained, it can last for decades.
Measuring Hardness: The Janka hardness test is the standard when it comes to determining the durability of hardwoods. It measures the amount of force necessary to embed a steel ball halfway into whatever wood is being tested, with higher numbers indicating harder woods. Red cedar is the softest at 350, while Ipe is the hardest at 3,510.
Color Changes: All floors will be exposed to sunlight to some degree, which will inevitably change your floor's tone over time. Some varieties will turn yellow, while others will become darker. The finish you choose can help protect your floors from this change, but be sure to ask an expert while shopping about what to expect from the different varieties of hardwood.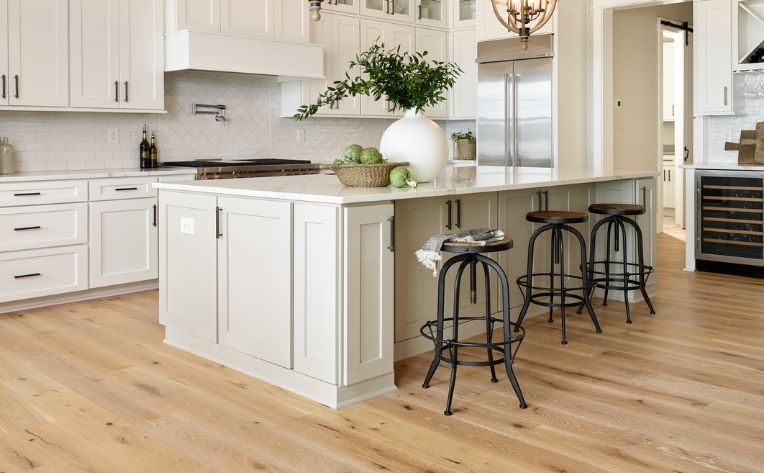 The 4 Most Popular Types of Hardwood Flooring
There is a wide variety of solid hardwood flooring options ranging in color, hardness, and look. Here is a quick breakdown of the most popular domestic options and how they can make your floor shine.
Red Oak: One of the most affordable options available, red oak is also the most stain-resistant. Its natural color ranges from light, creamy reddish pinks to shades of brown with moderate to heavy graining. While not the hardest option available, red oak holds up to wear and tear quite well and is flexible enough to not split under pressure.
White Oak: Much like its more colorful sister, white oak is abundant, medium-grained, and a reasonably priced option that holds up against stains. It is also a bit harder than red oak, with colors that range from golden brown to gray.
Maple: First off, you should be aware that maple is available in both hard and soft varieties. It is delicately grained and has creamy-blonde tones that match well with Scandinavian or Mid-Century Modern interior designs.
Hickory: Harder than oak varieties and maple, hickory is even more durable and resistant. It features a unique grain pattern marked by mineral streaks and knots that provide a more rustic look, with colors ranging from brown to red and tan.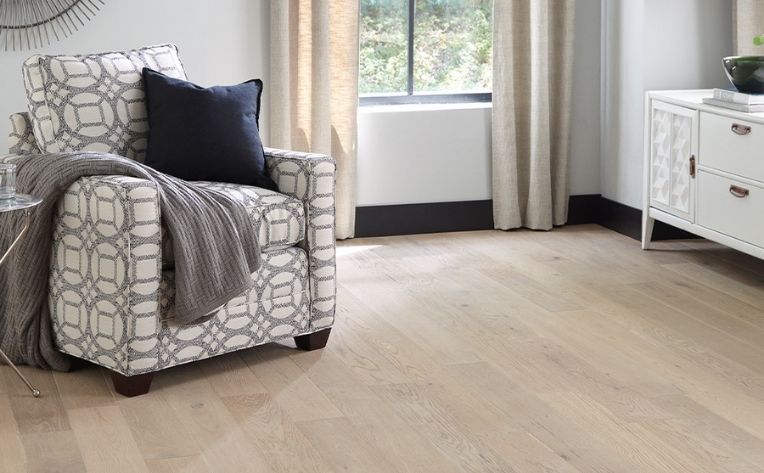 Maintenance and Avoiding Damage
Once your floor is installed, keeping up with it is key to extending its life and looking its best.
When sweeping, use a soft-bristled broom and move with the grain.
Be wary of vacuums with carpet beaters and brush rolls as these can damage the finish.
Don't let sticky debris stick around. Clean up spills with a clean, damp cloth as soon as you can and try to move with the grain.
Never steam clean wood.
Always refer to your floor's warranty if you are unsure about certain cleaning products.
If you still have questions or want to explore additional options before settling on the perfect floor for your home, the experts at your local Flooring America are here to help. They will answer all of your questions and help match you with the floor of your dreams.
Continue Reading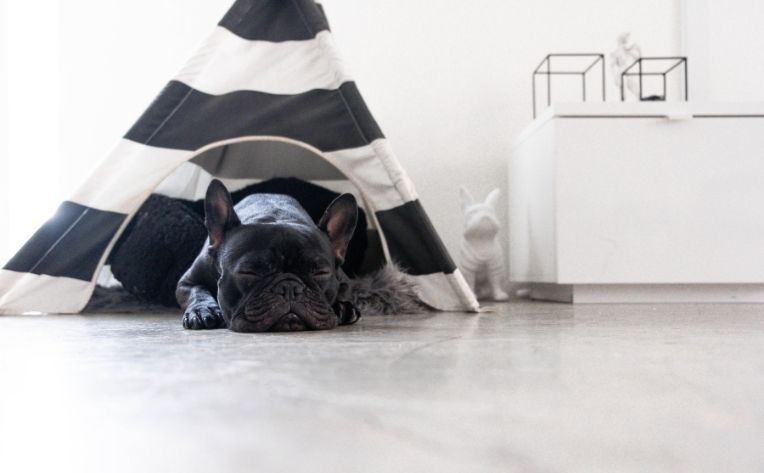 Oct 06, 2021
The balance between wanting beautiful floors and knowing you have a fur baby with paws and claws can be tough. Luxury vinyl strikes a great balance since it's scratch and stain-resistant and comes in a variety of beautiful styles and patterns, bringing about a little flair with its practical function. Tile, on the other hand, will stand up to your pup the best since it is one of the hardest flooring materials you can buy, but it isn't exactly comfy for canines. If you want to dive deeper into the best flooring for dogs that you can install around your house, check out our blog What's the Best Dog-Friendly Flooring? But what if you wanted to find floors that fit your dog's personal space? Let's look at the best types of floors for Fido's place of his own.
When finding floors for Fido, a lot of the considerations are the same—durability, water resistance, and clean-ability. However, when planning a dedicated space for your dog, like an indoor dog kennel, things like style and design likely won't factor in as much. And you probably can worry even less about colors—unless your dog has a very specific color palette. It has been found throughout many kennels that installing appropriate flooring material plays a key role in maintaining the health and comfort of dogs. The factors that go into choosing these floors can tell us a lot.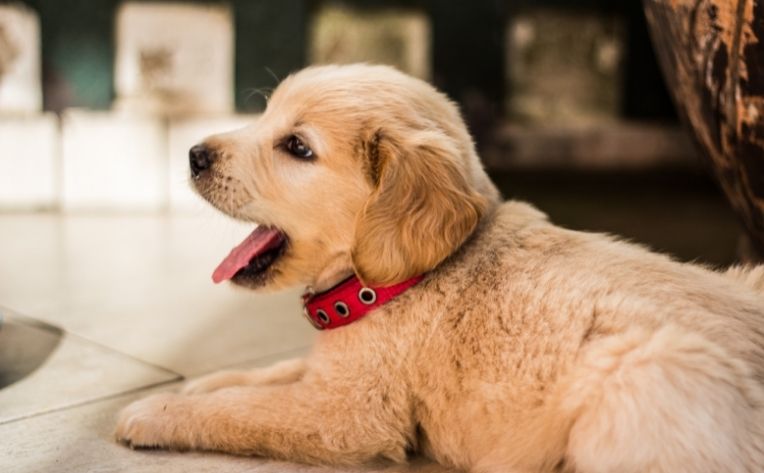 Most indoor dog kennels are giant pee pads with non-stick bottoms, and most of the time, these are a fine solution as they offer some comfort and absorbency. But if you're looking for something a little more permanent, first you should think of how easily it cleans. Different flooring materials can feature grooves, nooks, and holes where dirt and bacteria can collect. Opting for a smoother surface will save you extra effort cleaning it and help keep your pooch's pad nice and tidy. Obviously, you want a material that is stain-resistant, and you can even go as far as to find some that are waterproof or water-wicking to keep the area dry and stop bacteria, mildew, or mold from growing.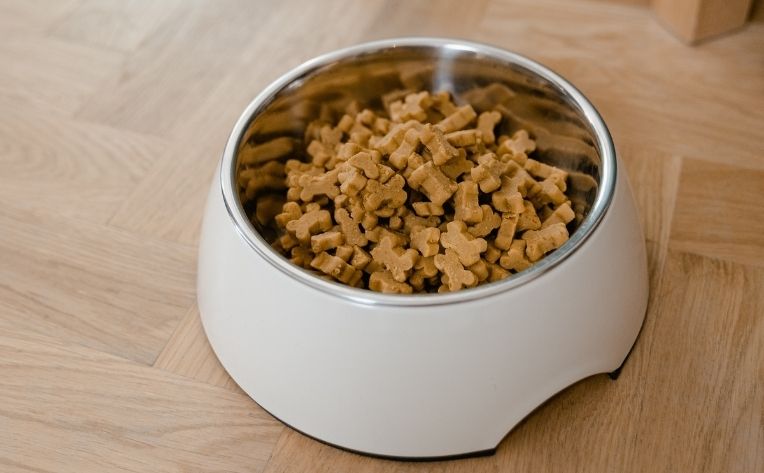 Once you've found a flooring material that's easy to clean, you also want to make sure that it is durable enough for your dog. Take into consideration the number of dogs you have, their size, and the amount of havoc they've been able to wreak on the rest of your house.
Some kennels use epoxy floors because they are shock-resistant, waterproof, and fire-proof. But unless you're running a kennel business, it is very labor-intensive and difficult to install.
Then, there is vinyl flooring, which is extremely scratch-resistant, durable, and easy to clean but may become slippery when wet, which is not very comfortable for your dog.
Rubber is a popular option because it is comfortable, well insulated, and still relatively easy to clean. But if your dog likes to bite and scratch, you may be replacing those rubber floors before you know it.
Hardwood floors are the best-looking option and blend nicely with the rest of your house. But depending on the sealant used, wood floors are going to be far less stain and water-resistant than the other flooring options and require your constant attention to keep them looking nice.
And if you really want to make your pup feel at home, you could install artificial grass, which looks great and is comfortable but may not have the same longevity as other materials.
When it comes to modular versus fixed flooring, modular is the way to go for your good boy. Rarely will the space you're sectioning off for your dog correspond to the factory specs that the fixed floors are designed to. Modular flooring allows you to cover the right amount of space for your dog and your home.
When comparing different flooring materials, it can be tough trying to balance a floor that's easy to clean with a floor that's comfortable for your dog. Soft versus hard materials seem in direct opposition to each other. But you can always lay down additional padding, like a soft mat or bedding in a portion of the kennel, if you opt for a harder surface that is easier to clean.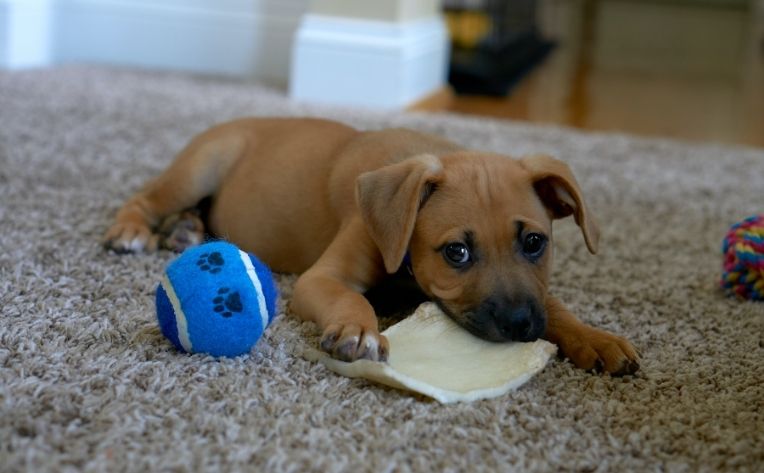 Finding the perfect balance for you, your dog, and your home can be difficult. That's why the knowledgeable experts at your local Flooring America are ready to answer all your flooring questions. When it comes to making the perfect place for your pup, they'll help make it easy.
Continue Reading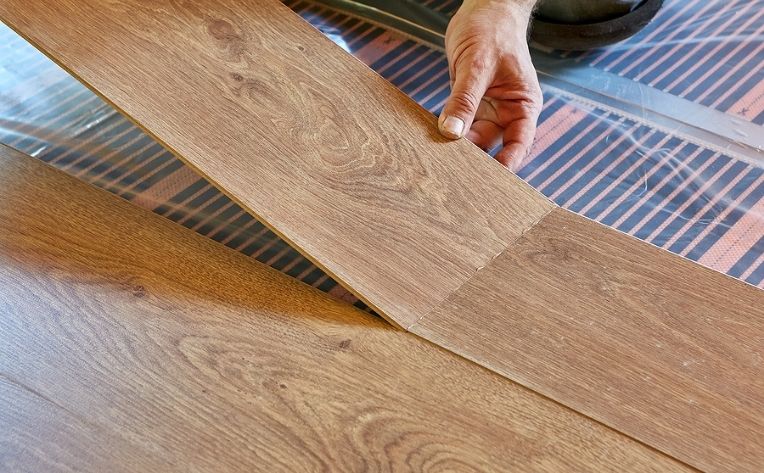 Sep 28, 2021
Electric-heated floor systems are typically used in areas of the home where a traditional heating system, like an HVAC unit, can't reach or on a surface that is normally cool to the touch. These work off of radiant heating, similar to how you can feel when the stovetop is turned on even when you're across the room. The idea is simple: rather than having a forced-air vent in a room that will determine which part of the room is the warmest, you can warm the whole room evenly through radiant heat on the floor.
Typically, you'll find electric-heated floor systems in bathrooms since you're barefoot most of the time you're in there. And who wants to step out of a nice warm shower onto a freezing cold floor anyway? It's nearly impossible to retroactively install an electric-heated floor system into an existing floor, so almost always, a new floor must be installed over the top of the heating system.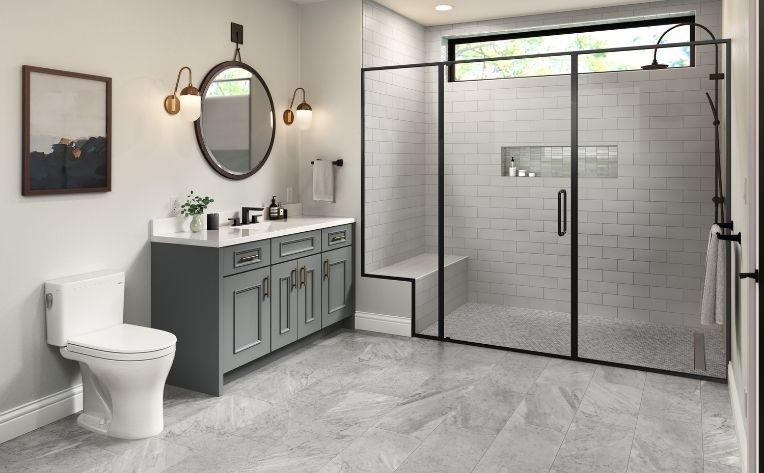 Radiant floor heating isn't a new idea. It actually dates all the way back to ancient Rome, where beneath the elevated marble floors of certain buildings was a system of tunnels that circulated air heated by fires. But it has certainly come a long way since then.
Nowadays, to heat a floor electrically, thin cables are installed under the surface of the floor. In some systems, these wires are grouped in mats that roll out easily across the subfloor. In others, individual wires are spaced and adhered directly to the subfloor. If your flooring includes an underlayment, the heating elements will be installed on top of that as well. In both cases, heat is produced as an electrical charge that moves through these wires. These systems are most often controlled by their own thermostat.
While any type of flooring material can cover an electric-heated floor, some are more effective than others. Because they conduct heat and it won't warp or damage them, ceramic, stone, and porcelain tiles are the most common types of heated floors you'll find. Alternatively, installing a heating system under wood floors can be trickier as it can affect the moisture content of the wood, leading to cracks and gaps. If you are looking to install a heating element under your hardwood floors, be sure to talk to a flooring expert at your local Flooring America.
Laminate flooring already has the benefit of feeling warm underfoot because of the wood content of the base layer and typically an underlayment. So, installing a heating system under a laminate floor should really only be reserved for rooms that are very cold. Like laminate, vinyl flooring can easily conduct warmth from a floor heating system because it tends to be thinner, but there are some things to look out for.
Whenever installing an electric-heated floor system, be sure to check your flooring warranty to verify the max temperature limit. Not only will going over the temperature limit void your warranty, but it could also damage floors made from wood, vinyl, or laminate. Most of the time, electric-heated floor systems are not paired with carpets since the carpet is already such a good insulator, and it reduces the amount of heat that is able to travel through it to your feet and the rest of the room. Remember, the more insulators (i.e., rugs and furniture) you place on top of the heating elements; the less heat will transfer easily into the room.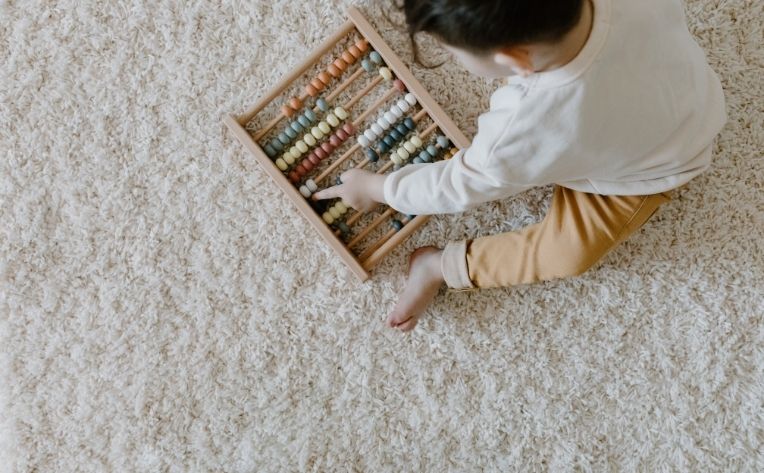 There are even a few less common flooring materials that should never have an electric-heated floor system installed, like rubber flooring, concrete flooring, and any flooring that is joined by adhesive, as the shifts in temperature may cause the adhesive to corrode faster.
Overall, electric-heated floor systems are a great way to provide most rooms with rich heat in a quiet, sometimes more energy-efficient way. While electric heat is expensive, the thermostat allows you to control the temperature, so you're not wasting as much energy as some traditional heating methods. If you need help answering any other questions about radiant floor heating, talk to your local flooring expert at your nearest Flooring America. Check to make sure your flooring choice is radiant-heat approved.
Continue Reading